Lacrosse > Sticks & Shafts >

[

x

]

White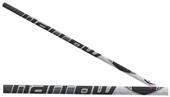 Mens Lacrosse Advance 240 Goalie - 40" Shaft [E26147]
$87.99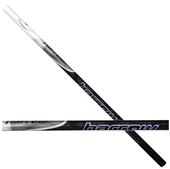 Harrow Mens Lacrosse Advance 220 - 32" Shaft [E26144]
$67.09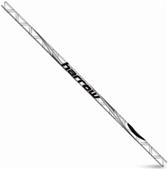 Harrow Womens Lacrosse Title IX Straight Shaft [E68889]
$57.19-$63.99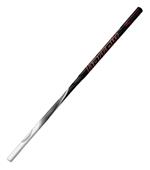 Womens Lacrosse P-Series Ultralight Tapered Shafts [E26300]
$58.59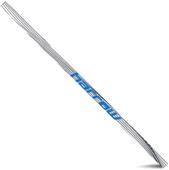 K1 Junior Lacrosse Shaft [E68978]
$40.29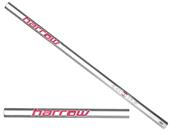 Harrow Womens Lacrosse G2 Straight Shafts [E26307]
$32.29
Lacrosse Stick Buying Guide
The lacrosse stick can also be referred to as a crosse or shaft; it is the primary piece of equipment on the field no matter what position you play. Because there is a wide selection of lacrosse sticks available, it is essential that you select the stick that fits you.
Choosing the right lacrosse stick
There are three different criteria to consider when choosing a lacrosse stick: material, shape, and grip.
Materials
Alloy lacrosse shafts are known for their unmatched feel and weight. They are the lightest shaft in the game and delivers great strength
Aluminum alloy offers a good strength to weight ratio and great for players of all positions, even goalies
Composite shafts are made from the highest grade carbon fiber for lightweight, reliable performance
Titanium shafts are know for their superior strength and are great for players who need a durable handle that can withstand the physical demands of the game
Shape
Attackers usually prefer lighter, rounder handles while other players like square shaped handles for a better feel.
Grips
Need to feel good in your hands, while still giving you full control. Some lacrosse shafts include built-in grips, texture, or tack areas on the surface.
Picking the right stick length by position?
Attackers/Midfielders
Prefer lacrosse sticks that are lighter and shorter allowing for more control and maneuverability.
Defenders
Like to use a heavier, longer stick for a greater reach and more strength blocking attackers.
Goalies
Have more of a choice when it comes to the lacrosse stick length. Most goalies prefer a lacrosse stick that is in between the attackers and defenders.
There are many lacrosse heads to choose from so picking the right one can be tough. Using the correct lacrosse head with the right stick can make a huge impact on your game, giving you more control over the ball and accuracy on passes and your catches.
Most lacrosse heads are offset, curved or canted to allow for more ball control. Each lacrosse head is made up of a scoop, a sidewall and a throat area that attaches to the lacrosse shaft. Heads can be bought strung or unstrung.
Cant Lacrosse Head
The forward cant lacrosse head drops down at the throat of the stick, giving the player maximum feel and control when carrying the ball
Curved Lacrosse Head
The scoop and sidewalls of the lacrosse head gradually curves down at the throat of the stick, which generates power and accuracy on passes and shots
Offset Lacrosse Head
The offset lacrosse head drops down at the throat of the stick, giving the player maximum feel and control when carrying the ball
Onset Lacrosse Head
The onset lacrosse head extends straight on out from the handle, and is used mainly by beginners who are learning the basic fundamentals and skills of the game
Buying the right pocket for your lacrosse stick
Lacrosse sticks come with either a mesh pocket for the novice players or a traditional woven pocket for the more experienced players.
Mesh
Made of nylon webbing woven into the sides of the pocket and require little or no adjustments
The mesh pocket is looser and provides better ball control and handling
The looser weave provides a deeper pocket and is preferred by goalies
Requires less maintenance
Traditional
Traditional pockets have been around the longest
Consists of nylon weave lacing that is attached to four adjustable leather strips
The leather strips can be adjusted to most playing styles, as well as the desired pocket depth
Pocket depth
Pocket depth is usually the preference and playing style of the player
Deeper pockets provide you with more feel and ball control
Shollower pockets give you less ball control but a quicker release
Shooting strings
The shooting strings are positioned horizontally across the top of the stick and adjusted to create either a smooth or abrupt release
Lacrosse Sticks and Shafts
For the best discount lacrosse sticks and shafts shop Epic Sports. Save 20 to 40 percent on men's and women's lacrosse shafts of assorted sizes and styles by all the best, including Harrow lacrosse sticks, Gait, Debeer, Combat, and others. hoose from alloy shafts, goalie shafts, men's and women's lacrosse sticks, girls lacrosse sticks, attack handles, tapered shafts, plus rubber end caps, parts and accessories. Epic Sports: where you'll find quality lacrosse sticks and not get shafted.